Do you want to be a part of the healthcare industry? Perhaps you like dealing with patients but aren't interested in providing hands-on care. A job as a pharmacy technician can be the perfect fit for you.
Pharmacy technicians deliver medicine, information, customer service, and assistance to consumers under the direction of pharmacists. They work at retail pharmacies, compounding pharmacies, hospitals, and nursing homes, among other places.
This article will walk you through the five steps to becoming a pharmacy technician, as well as information on CPhT.
What is a certified pharmacy technician (CPhT)?
Pharmacy technicians can receive the national PTCB Certified Pharmacy Technician (CPhT) Certification by taking the Pharmacy Technician Certification Exam® (PTCE®) and working more effectively with pharmacists to provide improved patient care and service.
The National Commission for Certifying Agencies has given PTCB's CPhT program certification (NCCA).
CPhT Scope
PTCB CPhTs provide assistance to pharmacists in a number of contexts, such as community pharmacies, hospitals, and other healthcare institutions. Although CPhTs frequently help with medication administration, each state's pharmacy board determines the legal area of activity for CPhTs.
PTCB CPhT Eligibility requirements
The PTCB credentials are only valid in the United States of America and its territories (US). As a result, PTCB tests are often exclusively given in the United States. Active duty military personnel and their spouses are eligible to take the exam anywhere in the world. Other applicants from outside the United States can only take a PTCB exam in a Pearson VUE test center in the United States provided they fulfill certain requirements.
An applicant must meet one of the following qualifications to be able to apply for PTCB CPhT Certification:
Pathway 1:

A PTCB-approved education or training program (or 60-day completion)* is required.

Pathway 2:

Equivalent pharmacy technician job experience (min. 500 hours). Experienced pharmacy technicians who are unable to participate in a PTCB-approved education or training program can benefit from this alternative option.
Applicants must additionally meet the following requirements in addition to finishing a PTCB-recognized education/training program or similar work experience:
All criminal and State Board of Pharmacy registration or licensure actions are fully disclosed

All applicable PTCB Certification policies must be followed

Passing the Pharmacy Technician Certification Exam with a passing score (PTCE).
To help you easily prepare for your coming PTCB Test, we offer hundreds of PTCE practice test questions on this website, or you can download it for your IOS or Android devices now!
How much does a Pharmacy Technician make in the U.S.?
The role of a pharmacy technician is critical to the smooth operation of a pharmacy. Pharmacy technicians assist pharmacists in dispensing prescription medications to clients and health care providers. According to the Bureau of Labor Statistics' Occupational Outlook Handbook, employment of pharmacy technicians is expected to grow at a higher rate than the national average, with roughly 31,500 pharmacy technician positions added between 2018 and 2028, a 7% rise.
We analyzed and created a list of the average pharmacy technician pay by state in the United States using occupational data from the Bureau of Labor Statistics.
Read more >> What Is The Average Pharmacy Technician Salary?
| | | |
| --- | --- | --- |
| State | Average Hourly Wage | Average Annual Salary |
| Alabama | $14.89 | $30,980 |
| Alaska | $22.32 | $46,430 |
| Arizona | $18.03 | $37,500 |
| Arkansas | $14.91 | $31,010 |
| California | $22.89 | $47,620 |
| Colorado | $18.76 | $39,020 |
| Connecticut | $17.44 | $36,280 |
| Delaware | $16.93 | $35,210 |
| District of Columbia | $22.23 | $46,240 |
| Florida | $16.77 | $34,880 |
| Georgia | $15.46 | $32,160 |
| Guam | $14.10 | $29,340 |
| Hawaii | $20.34 | $42,300 |
| Idaho | $17.62 | $36,660 |
| Illinois | $16.68 | $34,700 |
| Indiana | $16.44 | $34,200 |
| Iowa | $16.49 | $34,300 |
| Kansas | $17.08 | $35,530 |
| Kentucky | $14.60 | $30,370 |
| Louisiana | $16.95 | $35,260 |
| Maine | $16.29 | $33,890 |
| Maryland | $17.39 | $36,160 |
| Massachusetts | $18.79 | $39,090 |
| Michigan | $16.39 | $34,090 |
| Minnesota | $19.12 | $39,770 |
| Mississippi | $16.48 | $34,290 |
| Missouri | $16.19 | $33,670 |
| Montana | $18.04 | $37,520 |
| Nebraska | $17.10 | $35,570 |
| Nevada | $18.94 | $39,390 |
| New Hampshire | $17.06 | $35,490 |
| New Jersey | $17.16 | $35,700 |
| New Mexico | $17.52 | $36,440 |
| New York | $17.84 | $37,100 |
| North Carolina | $16.01 | $33,300 |
| North Dakota | $19.90 | $41,390 |
| Ohio | $15.63 | $32,520 |
| Oklahoma | $15.82 | $32,900 |
| Oregon | $20.87 | $43,410 |
| Pennsylvania | $15.27 | $31,760 |
| Puerto Rico | $11.58 | $24,090 |
| Rhode Island | $18.74 | $38,980 |
| South Carolina | $16.59 | $34,510 |
| South Dakota | $17.23 | $35,830 |
| Tennessee | $16.23 | $33,750 |
| Texas | $17.79 | $37,010 |
| Utah | $18.71 | $38,920 |
| Vermont | $17.25 | $35,880 |
| Virgin Islands | $17.15 | $35,670 |
| Virginia | $16.74 | $34,810 |
| Washington | $22.31 | $46,400 |
| West Virginia | $15.33 | $31,890 |
| Wisconsin | $17.20 | $35,780 |
| Wyoming | $18.91 | $39,330 |
How to become a pharmacy technician?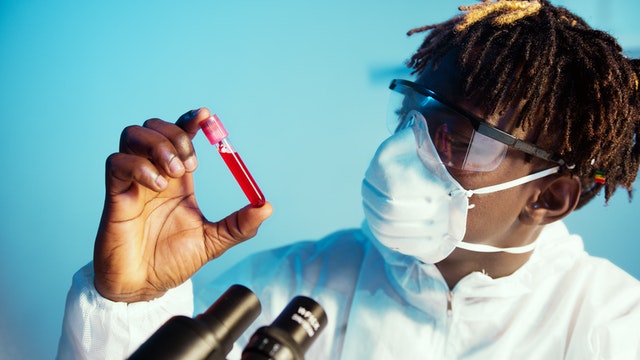 We'll walk you through the five processes to becoming a pharmacy technician in five easy steps.
Step 1: Preparing and applying
The first step in seeking a job as a pharmacy technician is to conduct research and apply for a pharmacy technician training program. Although some businesses may just demand a high school diploma, this position is regulated by 24 states. So, you may be needed to complete a program and/or pass an exam – here's what you need to know.
What Skills Do You Need to Be a Successful Pharmacy Technician?
Reading, math, and spelling

Because you'll be completing prescriptions and dealing with chemical and drug names, you'll need to be careful

Basic chemical, biology, or health education expertise is required

Understanding of medical and scientific words used in the pharmacy

Ability to operate under time constraints

Exceptional organizational skills

Ability to provide excellent client service

Interpersonal qualities and ability to work well in a team

Takes orders well, but can also work independently when necessary.
Step 2: Complete a pharm tech certification
One of the most critical stages on the road to becoming a competent pharmacy technician is learning how to become a certified pharm tech.
What to Expect While Studying for a Certification
The following topics are often included in pharmacy technician certification programs:
Pharmacology

Physiology

Anatomy

The law and ethics of pharmacy

The terminology used in medicine

Calculations for pharmaceuticals

Systems of healthcare
Complete Externship
An on-site externship will almost certainly be necessary as part of your pharmacy tech certificate preparation. Your instructors or school may be able to assist you in finding an appropriate job in which you may obtain real-world experience.
Step 3: Take the PTCB certification test
In certain states, obtaining a PTCB certification, if available, is a requirement to work as a pharmacy technician. Employers may prefer candidates who have this qualification even though certification is not required in their state.
Getting Ready for the Exam
Your pharmacy technician program should have prepared you to pass the PTCB Certification exam. You should spend time reviewing crucial subjects before the exam.
Applying for the Exam
If you are eligible, you can take the PTCB certification test in person or online by applying through the PTCB portal. The application fee for the test is $129.
Getting Certified
You are now a qualified pharmacy technician if you pass the exam. Congratulations on reaching a significant milestone on your path to beginning your career.
Step 4: Make an application for a position as a pharmacy technician
Your certification can help you find entry-level positions in your profession as a newly certified pharmacy technician.
Become a Pharmacy Technician by filling out an application
The job outlook for pharmacy technicians is positive, according to the United States Bureau of Labor Statistics. By 2029, the field is expected to increase at an average rate of 4% (15,200 new jobs). Employment possibilities in the pharmaceutical business are predicted to increase as the population ages.
Choosing the Right Environment for You
Because pharmacy technicians operate in a variety of settings, it's crucial to consider what you want to receive out of your future career.
Pharmacy technician jobs at hospitals, for example, are ideal for people who prefer to work in a fast-paced setting, while roles in care homes are ideal for those who want to develop a true connection with patients. Meanwhile, pharma techs with strong customer service skills can go for positions in retail pharmacies, while those who enjoy mixing drugs should look into compounding pharmacies.
Read more >> Common Pharmacy Technician Interview Questions
Step 5: Continued education
While certification is a vital step toward a job as a pharmacy technician, it is not the end of your study.
Keeping Up to Date with New Medications
Pharmacy technicians are responsible for staying informed on new drugs. With new products and brands continually entering the market, it's critical that graduates stay up to date on industry trends.
Getting Your PTCB Certification Renewed
Every two years, PTCB CPhTs must renew their certification. This guarantees that pharmacy technicians keep current with industry developments by requiring ongoing education. If you do not renew your pharmacy technician license, you will no longer be PTCB-certified and must stop using your credential immediately. If you want to get more information about PTCB Renewal, visit our blog and learn more in that post.
How long does it take to become a pharmacy technician?
Pharmacy technicians must have at least some formal training in order to be effective and excel in their work. But how long does pharmacy technician training last? You'll discover that the answer varies depending on the path you take.
Most pharmacy technician training programs last anything from a few months to a year. Because have a lot of pharmacy technician requirements so usually pharmacy technology associate degrees can take up to two years to finish.
Are CPhT and PTCB the same?
The PTCB CPhT Certification is the technician credential pharmacists trust.   Technicians who hold the CPhT certification illustrate their knowledge and commitment to medication safety and effective patient care in a variety of pharmacy settings. Employers prefer, and many require, PTCB CPhTs for their pharmacy technicians.
Finally, If you're ready to begin your career path to becoming a fully certified pharmacy technician (CPHT), you'll need to figure out which pharmacy technician program is right for you. Visit our website ABC E-Learning to learn more about the program.
[Sassy_Social_Share]