What is the difference between a Pharmacist and Pharmacy Technician?
Have you ever visited a hospital pharmacy or a private pharmacy with a prescription in hand? You must be greeted by someone asking for your name, address, and health insurance details before looking up a prescription. He was someone who was probably a pharmacy technician. The other, the pharmacist, checks the medications taken off the shelf by the technician and, after matching them with the drugs mentioned on your prescription, delivers them to you. Both seem to do similar jobs, yet a pharmacist outperforms a pharmacy technician and earns almost three times as much as a pharmacy technician. So what is the main difference between a pharmacist and a pharmacy technician? This has to do with the difference in the nature of the roles and responsibilities of the two jobs, and also the difference in the type and length of schooling that the two jobs require. Let's take a closer look at the two jobs.
Besides, we offer hundreds of free PTCE practice test questions on this website to help you easily grasp in-depth knowledge of this field. Give it a try!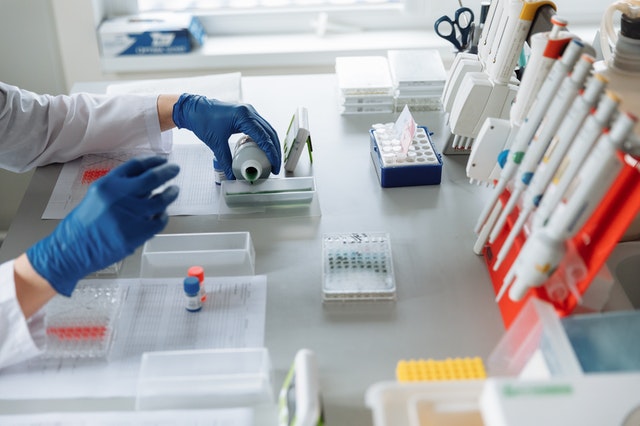 What are Pharmacists?
Pharmacists are people who practice pharmacy (doing professional work in a pharmacy or practicing pharmacy) in the health sector. They are also involved in disease management by optimizing and monitoring drug therapy or interpreting clinical test results, through collaboration with physicians or other healthcare professionals.
At medical facilities, pharmacists (clinical pharmacists) introduce new drugs (especially prescription drugs) to doctors or advise on drug use and health for people and the community. where the pharmacy operates (pharmacists work in community pharmacies-community pharmacies are where we still see finished drug retail). Pharmacists are also drug experts, and experts in subclinical biochemical tests when participating in drug administration decisions in special cases in the above establishments (pharmacists participate in advisory councils). drugs and treatment).
In addition, pharmacists also work in the pharmaceutical manufacturing industry (pharmaceutical industry), the business industry (drug distribution and supply), drug quality control facilities (Quality Control), or quality assurance work. Quality Assurance at pharmaceutical production and business establishments, pharmacists also work in drug storage facilities and research new drugs.
What does a Pharmacist do?
The pharmacist's job is often related to medication, here are the specific things they must do:
Selling drugs to patients according to the doctor's prescription

Advise patients on what medications they can use and work closely with a team of residents and medical staff to monitor the patient's situation to ensure that the drug treatment is effective. 

Educate and provide patients with all the information they need to know about the medications they are taking, are taking, and will be taking

Make recommendations to patients about the safe use of medications

Thoroughly explain to the patient the side effects of medications or their potential side effects

Guiding trainee pharmacists, helping them with both professional knowledge and skills and working experience

Monitor the supply of drugs to patients in the hospital; In charge of purchasing/importing drugs to the hospital's warehouse as well as distributing drugs to patients as well as checking the quality of drugs.
The role of pharmacists in the pharmaceutical industry
Pharmacists play a relatively important role in the medical and pharmaceutical industries. So how important they are, let's find out!
The pharmacist is the person who directly accesses and evaluates drug information. They are also drug consultants for patients and are indispensable advisors for doctors.

Pharmacists are people who provide drug information to doctors so that they can accurately prescribe to patients.

Pharmacists also participate in the Medicines and Therapeutics Council to do clinical outreach work with pharmaceuticals.

A pharmacist is a person who researches and manufactures medicines for medical use. Without them, doctors cannot treat patients, and patients themselves cannot be cured without using drugs that pharmacists research and produce.

Pharmacists are also trainers and educators of the necessary knowledge for trainees working in the health sector. They are also the ones who provide drug information to the patients. Without their advice and guidance, the patients would have difficulty using the medication.
How to become a pharmacist?
These pharmacists must go to a Ph.D. program in pharmacology, where they have the opportunities to intensively study chemistry, organic chemistry, pharmaceuticals, and more. This degree often requires 4 years of college, a minimum of 2 years in a pre-pharmacy program, and a 1-year lasting internship under the supervision of an experienced drug specialist.
In the US since 1992, the degree in pharmacy has been converted into a doctorate of pharmacy. Students can attend for 6 years, but most pharmacy schools in the US accept students for 4 years after the candidate has obtained a university degree. Currently, there are two popular specialties: the first is a doctor of community pharmacy working at a community pharmacy and the second is a doctor of clinical pharmacy working in hospitals and health care centers. Both are key components of performing drug care or so-called pharmaceutical care, a new concept in medication guidelines.
Pharmacist pay
Based on the Bureau of Labor Statistics May 2018 statistics, pharmacists in the US make an average of $124,000 (before tax), or $60 an hour. Update according to May 2019 statistics, the average salary inched up to $125,510.
In 2016-2026, it is predicted that the growth rate of this industry is about 6%, although not much, but in line with other industries (7%). Growth varies from state to state (e.g. Texas 15%, Florida 14%, California 8%, Massachusetts 2%).
Most industry statistics will list Pharmacists, but this may not include pharmacists employed by pharmaceutical companies and their statistical salaries. This is because these pharmacists often have different titles such as medical information manager, publications manager, medical science liaison, etc. However, the salary of pharmacists working in pharmaceutical companies is usually equal to or higher than that of pharmacy and hospital pharmacists, but rarely lower.
What are Pharmacy technicians?
Pharmacy technicians are people who support the work of pharmacists and medical staff with a variety of functions and duties, including preparing and dispensing prescription drugs and medical devices to patients and explaining in detail how to use them. In addition, they perform administrative tasks in the pharmaceutical industry such as evaluating pre-existing requests from clinics and insurance companies to ensure correct medication use and billing.
In the UK, Pharmacy Technician has recently been referred to as a separate profession. The law requires that certain activities of a pharmaceutical technician be supervised by a pharmacist. Most pharmacy technicians will work in residential areas. For hospitals, these technicians will be managed by senior technicians. This profession is growing in popularity and is responsible for managing the pharmacy department and specific areas of pharmacy practice, which has shaped the role of the pharmacy technician as a medical consultant. health, communication mainly with patients and in research work. This profession in the UK will be registered and licensed by the Central Council of Pharmacology, which will manage pharmacists, pharmaceutical technicians, and related premises.
In the United States, pharmaceutical technicians will be under the supervision of a pharmacist. Although they perform tasks such as preparing, dispensing, synthesizing pharmaceuticals, and related work under supervision, they are not authorized to advise patients on the use of medicines.
What does a Pharmacy Technician do?
Pharmacy technicians usually work in pharmacies although they can also work in hospitals and medical centers. Their specific duties revolve around giving prescription drugs and other medical devices to patients and teaching them how to use them.
In addition, they may also perform other administrative tasks in pharmacy practice, such as requesting prescription reviews with physician offices and insurance companies to ensure the correct medication is provided and received.
Pharmacy technicians often perform in the position of Ingredients Supervisor, overseeing the preparation of daily dosages according to standards and requirements. Today, pharmacy technicians have one-on-one conversations with patients to help them get their medication under control. To summarize, the daily tasks of a pharmacy technician include:
Receive prescriptions from customers

Prepare and mix medications under the supervision of a pharmacist

Pack and label medication for the patient

Packing medicine for the clinic in the hospital

Issuance, provision, and record-keeping of prescriptions

Inventory control (raw materials, or finished products)

Perform other administrative tasks at the request of the pharmacist

Instruct the patient on how to use the medication
One notable difference between pharmacists and pharmacy technicians is that although both know a lot about drugs and their side effects, only a pharmacist can give advice to a patient about a drug and its side effects to the patient. Perhaps this is due to his greater experience. A pharmacist spends years learning the names of drugs and their ingredients so he knows more about their side effects than a pharmacy technician. New customers in the pharmacy are managed only by the pharmacist while the pharmacy technician can reach regular or old customers. In case people write prescriptions over the phone, only pharmacists are allowed to take notes.
How to become a pharmacy technician?
Various institutions often offer pharmacy technician qualifications at all levels. However, the type of program you choose after that will depend on your current qualifications. In pharmacy technology, there is only a one-degree program that you can get. The reason is that the higher degree programs are meant to eventually lead you to become a pharmacist.
Therefore, a pharmacy technician qualification is an Associate's degree – An associate's degree in pharmacy technician is the best option for students who already have a high school diploma or GED, but are rarely ready to pursue a program. four-year bachelor. This program provides students with the fundamentals and methods of operation in the pharmaceutical industry.
Pharmacy technician pay
According to the Bureau of Labor Measurements, the middle drug store tech pay per year was about $32,700 in the year 2018. At drug stores, the 50th percentile of workers might command over $30,000. With normal earnings landing at $32,700 per year, the most excellent occupations for drug store professionals happen in state and local clinics.
Read more about The average pharmacy technician's salary here!
In spite of the fact that drug store professional pay may be lower than that of authorized drug specialists, preparing is reasonable and you won't have to spend the period of time lasting for 7 to 8 years in school. Most critical, with a fast certification that pays well, you'll be able to decide whether this associated well-being career could be a great fit for you. It's too not unprecedented for future drug specialists to begin off as drug store specialists – and proceed to work – whereas going to drug store school.
How to become an actual Pharmacist from a Pharmacy Technician?
Transitioning from pharmacy technician to actual pharmacist can take the dedication of time, money, and even your educational level. However, in the event that you're as enthusiastic about getting to be an actual pharmacist, it is possible to do so.
Education requirements
The instruction required to get to be an actual pharmacist is ordinarily two years of undergrad pre-pharmacy and four years of actual pharmacist graduate study (the final year being all pharmacy internships). Also, after completion of the undergrad parcel, you would like to score well on the PCAT® exam to meet and get acknowledged into your preferred pharmacy school.
Ordinarily, you've got an inclination in the event that you apply to pharmacy school at the same institution you completed your undergrad think about. Getting acknowledged into pharmacy school is a simple portion in comparison with the four years of late-night consideration, exams, lab practicums, and internships you must effectively do. So, that's 6 years of college add up to, which suggests you must be committed and energized around getting to be an actual pharmacist! After graduation, it is required for you to effectively pass the PTCB®  and your state-specific law test for the purpose of ending up a potential candidate for any actual pharmacist occupation.
The financial aspect
College appears expensive these days compared to several years ago. In any case, there are numerous grants made accessible to you by colleges and colleges to diminish the budgetary burden. The government will give you understudy credits to cover the educational cost, and reimbursement does not begin until half of a year after graduation.
But keep in mind that you must pay this support back, which can regularly take you a period of time from 10 to about 30 years on the sum borrowed. In circular numbers, it is normal for an understudy to have on normal $150,000 to $200,000 in understudy advance obligation after graduation with a pharmacy degree. It is exceptionally doable to pay back understudy credits in month-to-month installments when a pharmacist's beginning salary is from approximately $100,000 to $125,000 per year.
Rewards vs Responsibilities
After you have got wrapped your head around the time, cash, and exertion it takes to go from the pharmacy technician to an actual pharmacist, a greater question still remains. Is this career right for you and is it worth following for such with lots of gratitude? Actual pharmacists are always regarded as the foremost healthcare proficient to the public. Be that as it may, you're held obligated for all the medicines and orders you favor and apportion as a pharmacist, making each vital choice to a patient's wellbeing. In brief, the pharmacist's salary is commensurate with the level of responsibility.
Pharmacist And Pharmacy Technician: Which Career is Right for You?
Pharmacy technician positions are ideal for those who want a rewarding career in health but do not want to pursue a 4-year degree.
However, if you want a managerial position, a higher starting salary after graduation, or to conduct clinical research, you might be better suited to become a pharmacist.
Above is all the significant information about the main difference between pharmacists and pharmacy technicians. We hope that this article can help you in distinguishing between these two positions so that you can choose your most suitable occupation.
[Sassy_Social_Share]