We've all seen them before: the friendly drugstore staff who assist us in picking up and paying for our medicines. You might have assumed they were pharmacists in the past. They are, however, pharmacy technicians, or pharm techs, as they are also known.
Sure, you might believe they're really simply a cashier, handing out prescriptions and taking care of the register. But their duties go much beyond that. They do, in fact, play a critical role in maintaining patient safety.
If you're interested in pharmacy technician duties and what to expect on the job, you've come to the right place. What exactly does a pharmacy technician do? Continue reading for a detailed breakdown of the tasks you'll be doing as a pharmacy technician. We give you the important five pharmacy technician responsibilities to obtain a better knowledge of the job and decide if it's suited for you.
What does a pharmacy technician do?
A pharmacy technician works very closely with a pharmacist to make sure their clients' health and safety. They locate, dispense, pack, and label a patient's prescription medicine, which is then checked for accuracy by a pharmacist before being dispensed to the patient. They may also assist pharmacists with administrative duties such as processing insurance claims, inventory tracking, and paperwork filing.
In hospitals, drug and grocery stores, and other medical settings, a pharmacy technician assists pharmacists in the preparation and distribution of medications to patients. In many pharmacies, technicians are responsible for the following tasks.
Pharmacy technician duties list
A pharmacy technician mainly works in retail and hospitals. As a pharmacy technician, you will then be working under the supervision of a licensed pharmacist in both of these settings. Your duties may change based on your work environment; however, understanding all of the duties of a pharmacy technician, regardless of the workplace, is critical to your career. Continue reading to learn about the responsibilities of a pharmacy technician:
Receiving and confirming prescription orders
What does a pharmacy technician perform on a daily basis? Receiving and verifying medicine orders is a big part of it.  In today's digital environment, the majority of prescriptions are e-prescriptions. The pharmacy staff will not only need to utilize computer software to get these prescriptions, but they will also need to validate insurance coverage before the patient picks up their drug.
Obtaining and verifying the patient's information when a written prescription is brought in is still an important aspect of the technician's duty, even though there are more e-prescriptions than in the past. This includes verifying that the patient's name, address, phone number, date of birth, medication allergies, and insurance information are all spelled correctly.
Because even the smallest mistake can have serious consequences, pharmacy technicians must pay close attention to every detail.
Preparing and filling prescriptions
It's more than just counting pills and labeling bottles when it comes to filling prescriptions. This pharmacy tech task is a very detail-oriented procedure with more variability than you may expect.
Most people associate prescription drugs with tablets or capsules, but there are several that require preparation, such as creams, ointments, and compounds.
Pharmacy technicians working in hospitals and particular hospital units may be responsible for creating intravenous products such as Total Parenteral Nutrition (TPN) solutions, drugs, and treatments, all of which are crucial to patient safety and recovery.
Interacting with customers and answering questions
If you work in a retail pharmacy of any type, you may expect to engage with patients or customers on a daily basis. This might include assisting them with prescription purchases, identifying an over-the-counter drug, addressing basic medical questions, or directing them to a pharmacist.
Customer service abilities are, without a doubt, essential. The pharmacy technician must be capable of responding to technical questions concerning insurance coverage and copays in a straightforward manner. Strong interpersonal skills are also required because they are expected to be a kind, helpful presence behind the counter.
Many people who visit a pharmacy aren't looking forward to being there—being sick and dealing with insurance isn't nice. To make the encounter as enjoyable as possible, you must have the correct personality and attitude. One of the most important pharmacy tech skills you may have is customer service. (see more about pharmacy technician skills that you should know)
Measuring and Mixing Medication Properly
As a pharmacy technician, you will be required to measure pills or powders using a digital scale. After skilfully counting the pills or measuring the liquid, the medication must be administered. To finish the process, choose the appropriate pill or liquid container and label it accurately.
Print Labels Using Technology
The labels are mainly created by a computer and should clearly include the name of the prescribing physician, the patient's name, the name of the medicine, and the dosage guidelines. You will then conduct a final review with the pharmacist to rule out any mistakes, guaranteeing the patient's safety, before handing over the medication.
Process Insurance Claims
This step is to assist the patient in settling insurance claims. Before the patient leaves, double-check and ensure that all of the information on the insurance file has been updated to avoid any problems later. Following that, you must process the claim. Most claims may now be processed electronically, making the job of the pharmacy technician faster and easier. If this is not an option, you must contact your insurance company. Claims are sometimes denied due to clerical errors. In this case, you should contact your insurance company for assistance. This procedure can be time-consuming at times.
Managing inventory and performing organization tasks
Consider the following situation: you've recently been diagnosed with an illness and need to get your antibiotic before returning home and crawling back into bed. You go to your pharmacy only to discover that they are out of stock of the antibiotic you require to fill your prescription.
It's a little inconvenience at best, and a major issue at worst. This is only one of the reasons why inventory management is such a crucial responsibility for pharmacy technicians.
Performing frequent inventory counts on particular prescriptions, stocking inventory, and checking for expired medications are all examples of inventory management. This procedure maintains the pharmacy supplied and avoids potentially disastrous problems caused by out-of-date medications.
Enter Patient Data
Customer data, such as patient and prescription details, as well as insurance claim files, must be carefully stored or disposed of if no longer needed. All of this information must also be entered electronically. In some cases, you may need to account for any drug interactions or allergies that the client may have.
Manage Accounts
As part of your clerical responsibilities, you must manage pharmacy accounts, accept payments from patients, and tally payments and receipts each and every day.
Compound Intravenous IV Solutions
You will make liquids, ointments, and powders for intravenous mixing or compounding procedures. Depending on your job, you may be in charge of sanitizing an IV room and its equipment.
Various specialized roles
As you can see, pharmacy technicians are critical to running a very well, efficient, and safe pharmacy. In addition to the pharmacy technician job duties listed above, as pharmacy technicians acquire experience and advance in their careers, they may take on additional responsibilities.
Some pharmacy technicians advance to the position of pharmacy technician supervisor, in which they oversee and manage other pharmacy technicians.
In addition, pharma techs might specialize in a particular field, like compounding. Many of these advanced responsibilities will be highly influenced by the environment in which you work, as well as state rules and regulations.
What is a pharmacy technician not allowed to do?
Drug Utilization Review
As a pharmacy technician, you are not allowed to conduct a thorough review of a patient's medication information before, during, and after the medications are dispensed and take any actions based on it.
Interpret and Modify Medication
A pharmacy technician may not use his or her discretion to interpret a prescription or change a patient's medication without first consulting with the pharmacist.
Patients' Advice
As a pharmacy technician, you are not permitted to provide any medical advice or suggest any over-the-counter medication to patients.
Validating the Dispensing Process
Before dispensing medication to a client, you must obtain permission from the pharmacist at the pharmacy where you work. A pharmacy technician is never supposed to validate the dispensing procedure.
Essential Pharmacy Tech Skills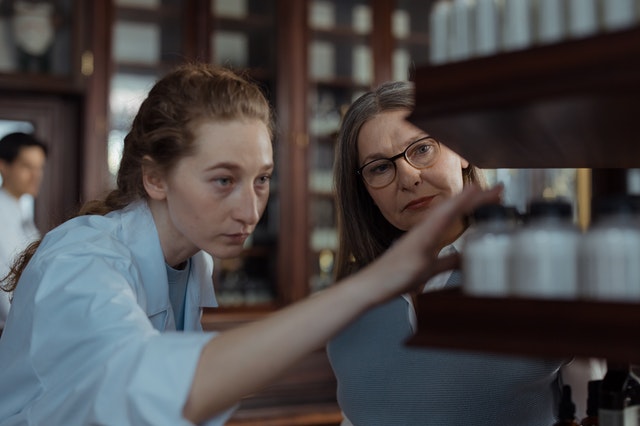 As you can see, a pharmacy technician's responsibilities involve a lot more than you may think. So, what skills will you require to succeed? Let's look at some of the most important transferable skills and abilities you'll need, as well as how they're used.
Communication:

When taking prescription orders, pharmacy technologists speak with pharmacists and doctors. They must also pay close attention to the demands and questions of consumers in order to refer them to the pharmacist.

Problem-solving abilities:

Pharmacy technicians should be mature enough to interact with patients, insurance companies, and coworkers to address issues.

Organization:

Pharmacy technicians must combine activities assigned by pharmacists, such as stocking shelves and keeping an inventory, with patient and customer service.

Mathematical skills:

Filling prescriptions and mixing drugs need a thorough understanding of basic mathematical fundamentals.

Detail-oriented:

Mistakes with prescription kinds, dosages, or interactions can lead to serious health consequences. Despite the fact that pharmacists are directly responsible for the medication's safety, pharmacy technicians are the first line of defense against these risks
Or if you want to get more information you can visit our blog about the pharmacy technician requirements.
Is a career in pharmacy better for me?
A career in pharmacy allows you to be a part of one of the healthcare industry's fastest-growing industries. Pharmacy technicians collaborate closely with pharmacists (note these are two different jobs, for more information you can visit our blog to better understand the difference between pharmacists and pharmacy technicians) to ensure that patients have access to the drugs they require.
Is it simple to work as a pharmacy technician?
Despite the fact that professions in pharmacy are rewarding, it is not easy work. Many pharmacy technicians are on their feet for the bulk of the day. Pharmacists may be required to work a range of schedules, including weekend and holiday shifts.
What legal requirements are there for working as a pharmacy technician?
State-by-state standards for working as a pharmacy technician vary. Contact the state board of pharmacy for particular criteria in your state.
Could you see yourself in this job now that you have a better understanding of pharmacy technician duties and responsibilities? If that's the case, you're ready to go on to the next phase. If you want to get more information about PTCB, visit our website and take our free PTCE practice test to easily pass your exam, or download it for your IOS or Android devices now!
[Sassy_Social_Share]